Channel / 13 Apr 2019
Liminality - Wales Arts Review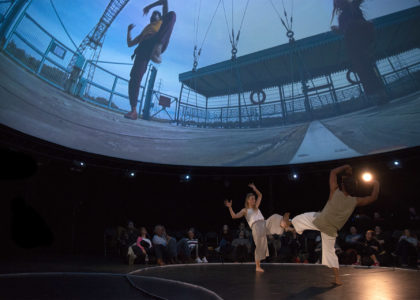 Gary Raymond, editor of Wales Arts Review, writes about the European premiere of Liminality, a live immersive contemporary dance piece, at Diffusion Festival 2019.
"Building upon the India-Wales Year of Culture 2017 360 degree film project, 'Liminality', 'Liminality Live' synchronises film dance and live electronic music inside the CULTVR dome. The dome itself amounts to over 225 square meters of screen that stretches overhead, along with ambisonic sound and immersive lighting. There is more than a touch of the Planetarium-experience from the reclining seats, and there is something of the awe-inspiring in this too, previously reserved for the sprawl of galaxies. It is remarkable what a change in perspective can do to the system. The live dance offers a vibrant synchronicity to the action on the film over head. The filming is split between landscapes of Wales, infused with mysticism – mist-permeated forests and hillsides – and the Technicolor chaos of New Delhi with its overcrowded streets, careworn orchestras, and eerie pockets of peace and quiet. The technical achievements of 4Pi are conspicuously non-showy, with each new effect dazzling but unobtrusive to the whole. And somehow the live dancers also become part of the fabric rather than an addendum to the central premise, that of the physical experience of seeing the filmic tricks played out on the vast ceiling."
Read the full article here.