Event / 18 Apr 2019
Altered Ego - Opening & Presentation Event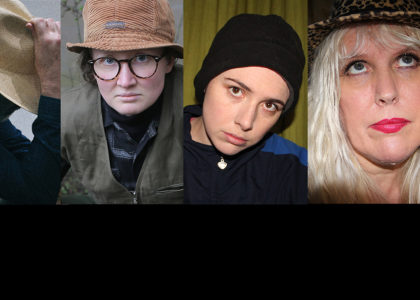 Lord Spittleash has grudgingly opened the gates of his stately home at Insole Court to a cast of hopefuls, chancers, celebrities and spies. Through photography, film, painting, sculpture, sound and live art, Altered Ego explores ideas of who we think we really are and how we present this to the outside world. It explores our alter egos: our self-presentation in the world, our differing identities for different contexts, and those 'normal' parts of human behaviour that are often heightened by disability or circumstance.
The project is predicated on the notion that we all create a sense of self and identity, and that we all constantly recreate and evolve our identities in different situations. These alter egos are often not too far away from your own actual personality; giving confidence to explore parts of yourself that you might otherwise feel unable to. They create a psychological space in which you might embody somebody 'different' to your everyday self.
Altered Ego seeks to develop a model for addressing issues that are directly rooted in the experience of disability, yet which apply across wider society: the degrees to which we adapt ourselves to fit preconditioned attitudes and perceptions. Through a series of creative experiments, we examine the ways in which we all present ourselves with varying degrees of veracity, accuracy and even mendacity.
Altered Ego features a group of disabled and non-disabled artists, actors, writers and musicians: Sara Christova, William Craig, Paul Leyland, Zosia Krasnowolska, Rachael Smith, Rosie Swan, Kate Woodward and David Sinden. We gave them the tools to create new identities, ranging from… Adam lane, a teen idol popstar gone to ground; to Lord Spittleash, a playboy Baron, spy and aristocrat, and his faithful butler Wallace; Lily-May, a haunted transnational singer; Slim Monroe, a washed up cowhand; Cardamon Jones, a mysterious agent hunting rare animal smugglers; Lord Spittleash's niece, 80s pop sensation Lulu Goodridge; Blair Maddox, troubled teen and trouble itself; and Banks, Lord Spittleash's head gardener, convinced that the world will come crashing down…
Altered Ego will be shown as part of the Diffusion 2019 festival programme at Insole Court in Llandaff from 13th to 28th April accompanied by a discussion event organised in conjunction with Disability Arts Cymru, Cardiff School of Art & Design and the Creative Writing Centre at Bath Spa University. It will feature a public exhibition of new image-based and mixed media, standalone and site-specific artworks presenting the Altered Ego identities throughout the Insole Court house and grounds. In the lead up to the exhibition in the main house, an exhibition of works by the Altered Ego artists will also be shown in the The Potting Shed gallery and cafe at Insole Court from 13th to 18th April.
The Altered Ego opening and presentation evening will explore the issues that the project raises in a discussion event with the exhibiting artists and some invited speakers. They will explore the identity creation process and its impact on their creative practise, and reflect on wider issues around disability, identity and creativity.

Altered Ego is funded by The Arts Council of Wales and Diffusion. It is a partnership between Ffotogallery, the Diffusion 2019 international photography festival, MADE gallery, Disability Arts Cymru, Cardiff School of Art & Design, the TRACE Writing Centre at Bath Spa University, Insole Court and the artists.