Event / 7 Apr 2019
What Leg Are We On
Good News from the Future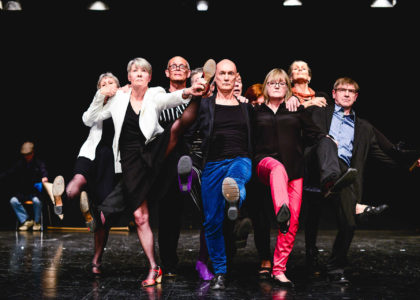 A great opportunity to witness the first fruits of an exciting collaboration between GNFTF and Cardiff-based composer Sam Barnes, who has written music for television series including Hinterland and Hidden, and who is also bass player with local band Boy Azooga.
From its very beginning, GNFTF has been committed to marrying music and movement. What Comes Next? [2015] – which was presented in Chapter at the Cardiff Dance Festival and in the Gwanwyn Festival at the Wales Millennium Centre – included recordings made on home-made instruments. In 2016, we participated in Tim Parkinson's experimental 'anti-opera' Time with People at From Now On music festival. And in 2017, we created Museum Pieces: a suite of three choreographies designed to be performed in museums and galleries – including the National Museum Cardiff and the Glynn Vivian Gallery, Swansea – that echoed and challenged the art works around them, and that were accompanied by special-commissioned pre-recorded soundtracks by Sam Barnes, as part of our commitment to intergenerational collaboration.
What leg are we on? breaks new ground. Its aim is to develop forms of improvised movement that are accompanied by and that respond to sensitive and stimulating musical soundtracks created live – in an unpredictable free-style dialogue, in a single artistic composition…
What leg are we on? is presented by an experienced group who have come to know, trust and care for each other's physicality and who are able to create funny, moving, demanding, intimate and surprising patterns of choreographic activity. Performers rub shoulders and energies in an eccentric and exuberant combination of solos, duets and freewheeling group movements, gestures and entanglements – encountering, following, supporting, copying, mirroring, modelling, each other. In a style that is laced with effervescent humour and driven by a sense of fun…
The project is funded by an award from the Help Musicians UK Fusion Fund with support from Chapter.