Exhibition / 9 Apr – 27 Apr 2019
FOR THE LOVE OF FILM: Women Leading the Way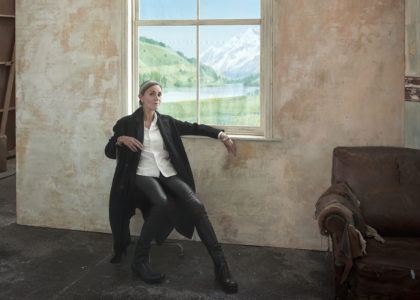 To coincide with BAFTA Cymru's An Audience with Sian Grigg on the 26th April 2019, BAFTA presents, for the first time in Wales, a free exhibition of recently commissioned portraits of women leading the way in the film industry, taken from the ongoing series For the Love of Film. The theme of Women Leading the Way was first introduced at the British Academy Cymru Awards in 2018.
Phil Fisk's carefully staged photographic portraits celebrate the passion and award-winning artistry behind modern cinema. From casting agents to actors, make-up artists to producers, the series shines a light on the filmmaking process and the people that make it happen, both the famous faces in front of the camera and those hidden behind the scenes. Fisk's style is playful, striking and often surreal – capturing an essence of both the character and career of his subjects.
As a part of the series, BAFTA commissioned Fisk to work with Sian Grigg to create a portrait on location in south Wales, a place of personal significance to Grigg having grown up and still being based here between film projects that take her around the world. As an alumnus of the school, the resulting portrait is being specially unveiled in this exhibition, and is a permanent gift to the Cardiff School of Art and Design Art Collection.

Presented in partnership with Cardiff School of Art and Design, Wales Screen and the Diffusion Festival. With thanks to the Hobson Charity.