Event / 5 Apr 2019
Visual Piano featuring R. Seiliog
Kurt Laurenz Theinert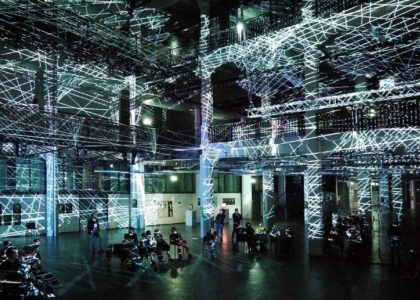 The visual piano is an instrument which makes it possible to create moving images in a space. It is unique and was conceived and developed by the photographer and light installation artist Kurt Laurenz Theinert in collaboration with the software designers Roland Blach and Philip Rahlenbeck.
Using a MIDI-keyboard it is possible to generate varying graphic patterns which can be digitally projected onto one or more screens. These dynamic and immediate drawings in light are (as with VJ soft-and Hardware) generated by pre-recorded clips, but every moment of the performance is being played and modulated live and in real time via the keyboard and pedals.
Initially Theinert projected his drawings in light straight onto one screen; the expansion of the projection into 360° allows him to expand the visual experience of the audience into three dimensions. The intensified visual experience is astonishing: the defining edges of the darkened space are replaced by big, moving structures of light and the viewer gets immersed in a totally new cosmos of moving lines and fields of colour. The projection onto one screen is strongly reminiscent of constructivist painting and other modernist movements, the 360° projections generate architectural and technical asso­ciations. One is reminded of computer generated 3D simulations or laser beams. The symmetrical composition of the projection creates crystalline shapes that remind us of the design principles of Art-Deco or the utopian designs of expressionist architecture. At the same time the psychedelic colours quote the aesthetics of the Sixties.
Form and content are of one here. The "visual piano" performances explore professio­nal contemporary artistic practice through the abstract, ephemeral medium of light, but at the same time they are consciously located in close proximity to the genre of "serious" entertainment.
About Artist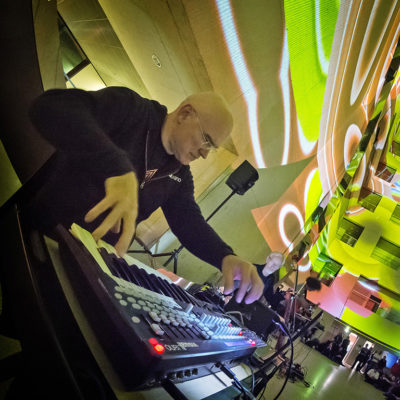 Kurt Laurenz Theinert
Kurt Laurenz Theinert is a photographer and live performing light and media artist. His visual piano performances are shown all around the world in Sao Paulo, London, Sydney, Berlin, New York and Singapore. He concentrates in his work on visual experiences that do not refer, as images, to anything. On the contrary, he is striving for an abstract, reductive aesthetic that has ultimately led him – through a wish for more dematerialisation – from photography to light as a medium.