Exhibition / 1 Apr – 30 Apr 2019
Intimate Distance
Timothy Gwyn John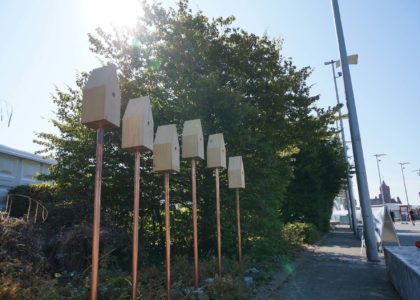 Underpinning the work Intimate Distance are ideas about how we connect and communicate with one another. Language, of course, is essential to this – be it verbal or gestural. Intimate Distance – conceived and constructed as an outdoor installation – combines the 'language' of birdsong with the very different discourses and disciplines of traditional wood working skills and new technologies. In one sense, it is a sculptural metaphor for the feelings we experience when the things we seek in this world begin to overstimulate and overwhelm us.
Intimate Distance comprises of beautifully crafted bird houses made from sweet chestnut wood and supported on copper poles. Within each house there is an ultrasonic sensor, a Raspberry Pi computer and a speaker. The ultrasonic sensors measure distance and, as an object get closer, the volume of the birdsong gets incrementally louder.
Likewise, as the viewer approaches the birdhouses in order to investigate them, the volume of the birdsong increases – perhaps, to the point that the viewer feels overwhelmed by the presence of what s/he once found interesting and sought an intimacy with.
About Artist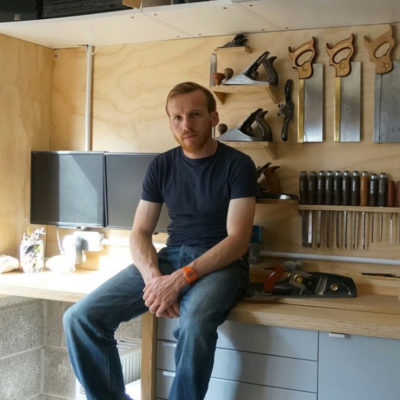 Timothy Gwyn John
The theme of 'connectivity' – what continues to connect us to each other and our environments – has informed my work for more than a decade as I travelled between cities around the world. Inspired both by the ubiquity of telegraph poles and wires in the landscape and the increasing omnipresence of social networks, my work engages with the reasons why, and the methods by which, we choose to stay in touch. Combining traditional craft techniques with digital technologies, my multi-media sculptures juxtapose the persistent brevity of contemporary messaging with the desire to make something significant and long lasting. In doing so, they consider the constant human need to connect and stay joined.