Exhibition / 1 Apr – 30 Apr 2019
The Groove
Peter Finnemore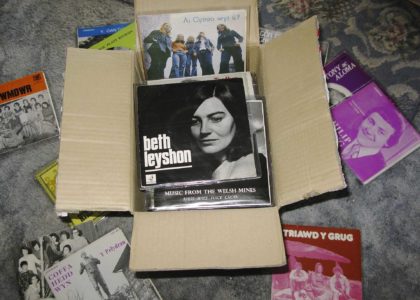 I've been collecting 45 rpm vinyl records for many years. The criterion for my collection is that each individual record is culturally specific to Wales. This is an archive of kitsch imagery and popular song, democratic and inclusive of all musical styles. The majority collected because of the details within the record cover photographs and back cover text rather than for the musical content or style. The photographs are rich in historic detail about people and portraiture, landscape and place. Some are surreal and strange. Personal favourites include: Y Pelydrau, windswept and cheerful, stockinged legs with optical illusion skirts posing on Trawsfynydd Lake with the nuclear plant directly behind them. Yr Awr, floral dressed 70s heartbreakers posing on Swansea train station. Y Pedwar Caballero, 4 badass Mexicano farmers from Caernarfon "Their record brings a new sound to the Welsh 'pop' scene. Here is an attempt to unite rhythmic ballads with songs to which one can dance".
These packaged artefacts are cultural relics, archaeological markers of cultural history. Iorwerth Peate, founder of St Fagans, would approve of their redefined status as vernacular folk art. They are preserved time capsules, unselfconscious folk art that reveal an era of yearning to express cultural identity and to celebrate Welshness. Nostalgia, the naïve, innocence, the idiosyncratic, passion and celebration of amateur values are all here. The records are full of living history with personal and group biography, stories, dreams, hopes and fears. They become triggers for memory and emotion. This grouping becomes an historical archive delineating a cultural period between Jac a Will (circa 1958) until the late 70s. The musical themes and lyrics express the cultural values of the nation. A cultural shift takes place from conformist values; the nostalgic and sentimental - celebration of nation, land, family, community and bible, to a bold and confident political, individualistic, self expressive and psychedelic themes as sung by Huw Jones, Dafydd Iwan, Heather Jones, Tebot Piws and Meic Stevens. Music in Wales as evidenced here is expansive in style, form and expression. It is a plural and multicultural activity with Paul Robeson, Iris Williams and Shirley Bassey contributing to the Welsh musical tradition. This installation is about modernism in a specific cultural and marginal context. Telepops Y Cymro is about Wales becoming modern and expressive. Here are the vinyl bones of a nation singing for its survival and with open voice singing itself into existence and self-awareness.
About Artist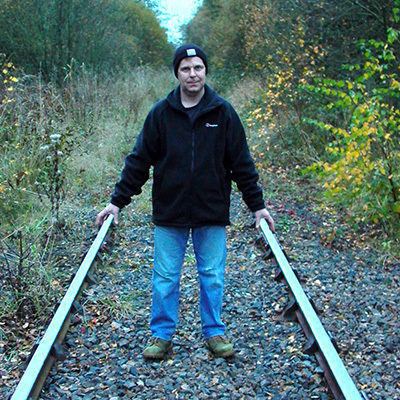 Peter Finnemore
Peter Finnemore is an artist based within Wales, whose practice includes a broad spectrum of international fine art photographic practice. He embraces the range of photographic language from the expressive to the document and its material form. Finnemore utalises digital and traditional wet darkroom practice, multi-media installation, performance, video, artist books, writing and curation.
He works eclectically on long term projects that revolve around themes of home, divination & psychogeography, generational memory, history, social landscape and culture.